LET'S SAIL LIKE NO OTHERS!
3 DAYS AND 2 NIGHTS SAIL TO KOMODO ISLANDS
GROUP TRIP is a shared trip, you'll share boat with other travellers
East is always the most desirable part of Indonesia to be visited. The exotic landscape, the ocean that is too clear, and the wild animals are the main three things to define it. One of the main fascinating sides of East Indonesia is Flores.
Flores is one of The Lesser Sunda Islands, the home for breathtaking natural attractions and wild creatures. As part of it, the one of 7 Wonders Of Nature, The Komodo Island, the homeland of the oldest lizard in the world, The Komodo Dragons.
TRAVASS LIFE will bring you on three days adventure with the phinisi boat to explore this part of Indonesia. In three days, you will experience living on board with wonderful people, delicious local food, and surrounded by beautiful landscape. Not just The Komodo Islands, we will visit other sites of The Lesser Sunda Islands, which are The Rinca Island, Kanawa Island, The Pink Beach, Sebayur Island, Siaba Island, Padar Island, The Manta Point, Taka Makassar, Kalong Island, and Kelor Island. Last but definitely not least, we also provide you a personal guide/photographer in the group to capture your moments while you're enjoying your moments!
NOW, LET'S CHOOSE YOUR BOAT!
Our first vessel is perfect for a group of friends, solo travellers, those who loves to connect with other world travellers. This one is a comfortable, spacious, and simple vessel that has a lot of spots for sunbathing or partying.
starts from IDR 2,950,000/person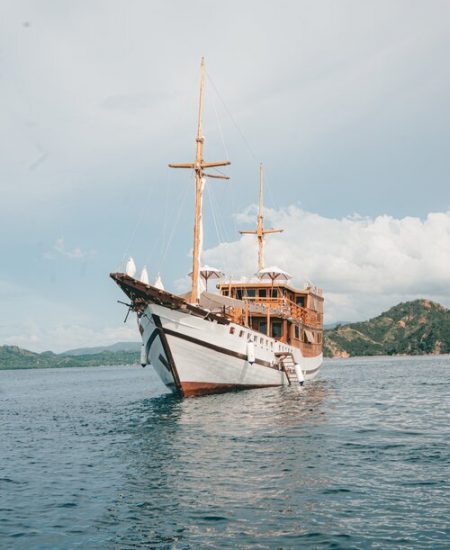 The second vessel is perfect for couples or family. The spacious and sea view rooms are simply gorgeous. A comfortable and romantic sail is guaranteed.
starts from IDR 4,750,000/person
The third vessel is also perfect for couples and family. It's very well decorated and comfy. It's spacious, has a lots of outdoor spaces where you can enjoy the endless blue.
starts from IDR 4,850,000/person
Boat 04 is equipped with 6 bedrooms and has an outdoor jacuzzi where you can chill while watching the sunset or the falling stars. It's a classic yet modern one.
starts from IDR 3,750,000/person
Boat 05 is a well decorated vessel that's comfortable and adorable. It's a semi Phinisi Boat that has 6 bedrooms and shady sundeck.
starts from IDR 2,950,000/person
Boat 06 is a large vessel that can accommodate up to 20 travellers. Its spacious deck is perfect for having a boat party and also a quality time with the people you love.
starts from IDR 3,250,000/person